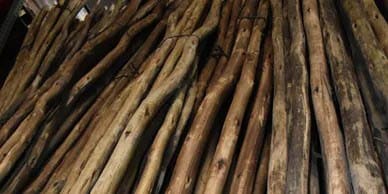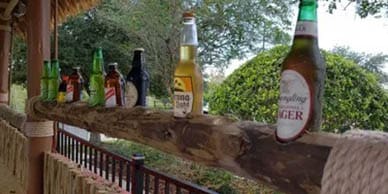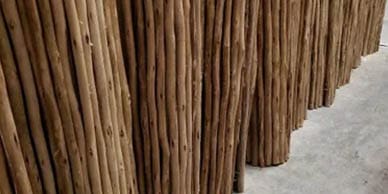 These amazing poles are gorgeous. Their golden highly textured gnarled and knotted surfaces create a truly unique look.
Cypress gets it exquisite look because its bark is peeled from the timber exposing all of its nodes and imperfections and has a deep rich color. Like eucalyptus, it can be formed into any shape or design , but is about 30% more costly than eucalyptus. Its look stands apart from other timber products. Cypress can span just about any length with the right diameter.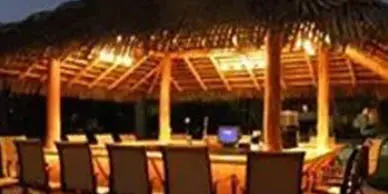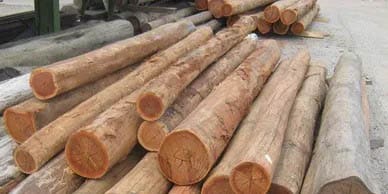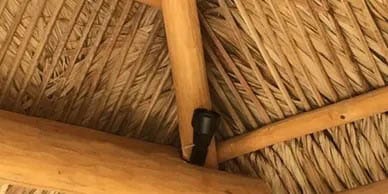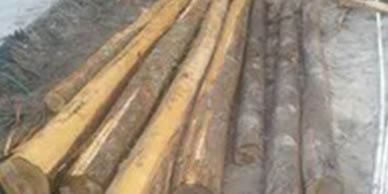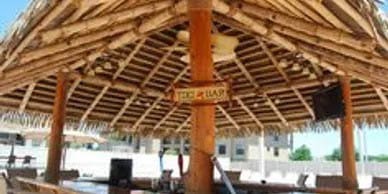 Tre-Gai is a large and extremely strong bamboo with very thick sidewalls that make it ideal for structural usage. The pronounced waviness over the nodes and scarred bamboo surface, typical of Tre-Gai bamboo, lends the species a rustic beauty. It also can be sanded and finished for a more refined look.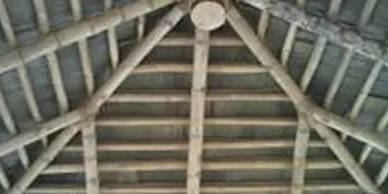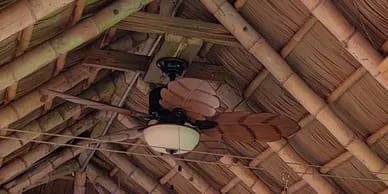 Bamboo framing has a unique look with its rich color and nodules and adds a lot of character to any structure. Bamboo is not as versatile in timber framing as other forms as it has a hollow core and has its limitations on span lengths and structural capacity. Traditionally bamboo is kept under spans of 10 feet.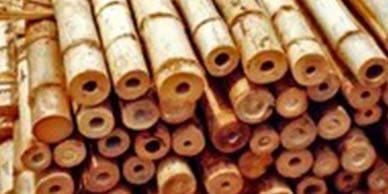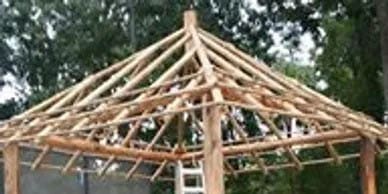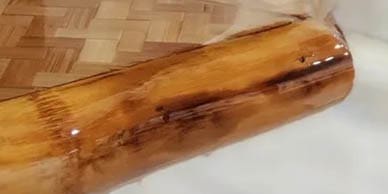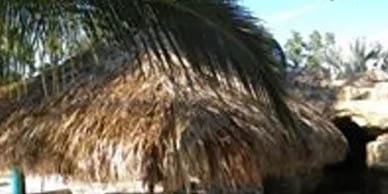 Palm thatch, is probably the oldest, most widely used type of thatching. It is a natural resource making it environmentally friendly. Natural Palm thatch is by far the most pocketbook friendly thatch available.
Natural Palm thatch is cut from select kinds of palm trees, but the most widely used is from the Sabal Palm . The fronds are cut fresh and installed within 5 days of cutting, thus giving it its green look. After about 3-6 months the structure will settle, the leaves will compress and dry out and turn completely brown giving you that traditional look.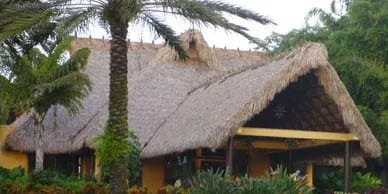 Palm thatch has the most unique character on an open batton structure. Unrivaled by any other type of thatch, its look is created by specially folding each leaf, and placing it on top of the stems from the row below.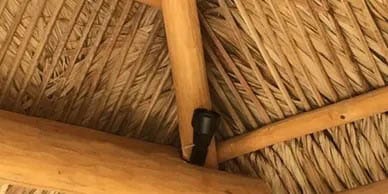 Temperatures under the palm thatch structure can be 15-20 degrees cooler than outside. Palm thatch can be sprayed with a class A fire retardant that will meet specifications for any type of property.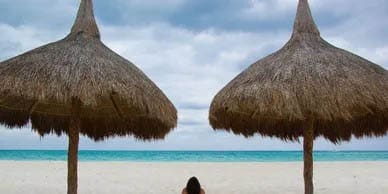 Re-thatching a previously built structure by a qualified thatcher will cost on average about $10-$15 dollars a square foot. This price can vary outside the average, as it is greatly impacted by the size, shape, and spacing of the structure.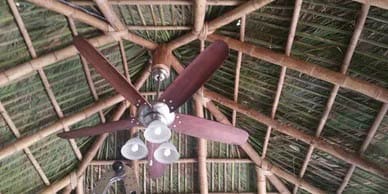 Natural Palm thatch has a downside, in that it only lasts about 3-6 years, depending on the climate. Thus requiring you to re-thatch the structure 2-3 times, compared to the 20-30 year life span of Synthetic thatches.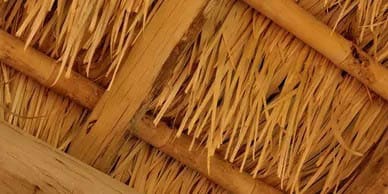 Mexican Rain Cape is a great, inexpensive way to create a tropical theme.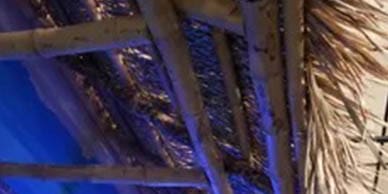 While rain cape doesn't have the longevity like other thatches, these woven-palm sheets are inexpensive, and great for indoor use. They can be used outside but are not suggested as their life span outside is under a year.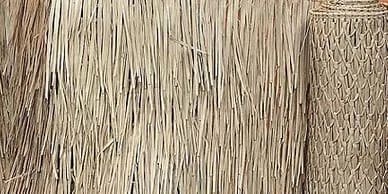 A shaggy topside gives these capes instant tropical ambiance, and the underside reveals a woven diamond pattern.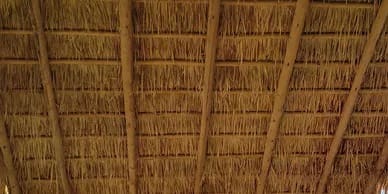 Although rain cape is inexpensive, it is not water tight. Rain cape should only be used for themeing purposes and not water protection.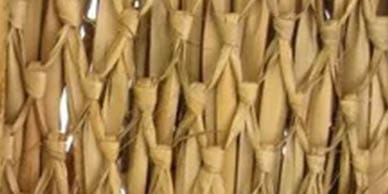 The underside reveals a woven diamond pattern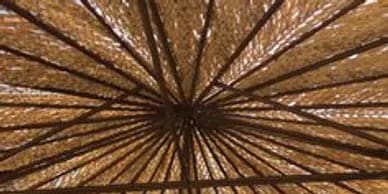 Just recently a synthetic version was created, which outlast the natural by 19+ years.
 Tahiti Thatch is a sturdy, yet shaggy natural palm thatch. It provides a rustic and chunky feel and is 98% waterproof.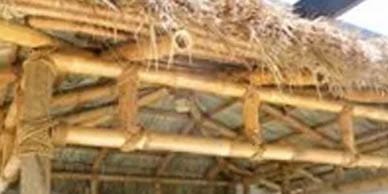 Made from hardy high-desert palm leaves, these natural rustic thatch panels are ideal for any Caribbean island look.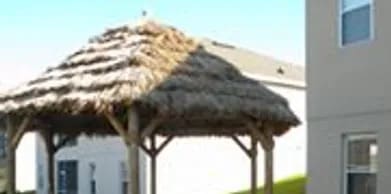 Because of its thickness, it can last between three to five years, and depending on the climate and regular pest control treatments.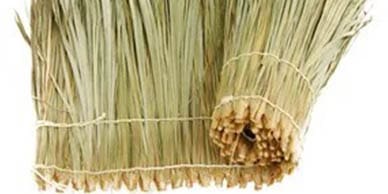 The panels are made 26" x 36" making them easy to handle.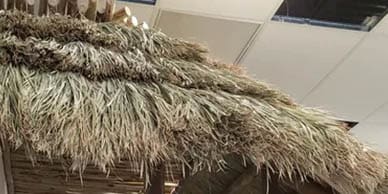 Tahiti Thatch Panels can be used on open batton structures or sub-roof structures.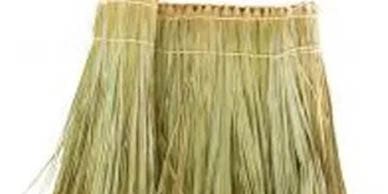 Like palm Thatch these panels will be installed recently made and will have a green color. They will turn brown after a few weeks to months, depending on the climate where they are installed.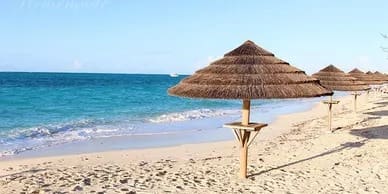 African reed has an overall rich golden hue, with green and brown hints throughout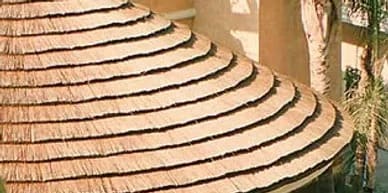 Once installed provides a distinct "stepped" appearance.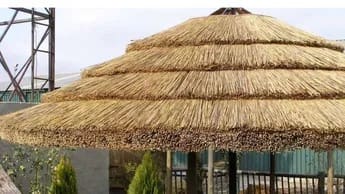 This long lasting and rugged thatching material provides significantly cooler shade than other alternatives, and is ideal choice!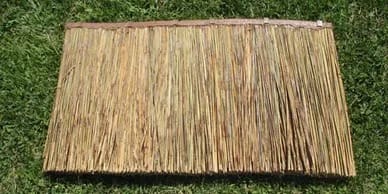 Panels are made in a 31" x 16" x 1.5" panel.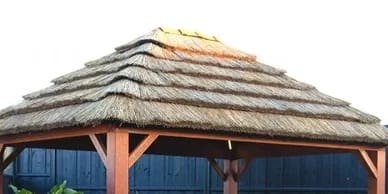 These panels are nearly waterproof and generally last between four and five years, depending on the climate.
These panels can be installed on metal frabricated frames with the clips that come on the panels, or nailed/stapled to wood frame structures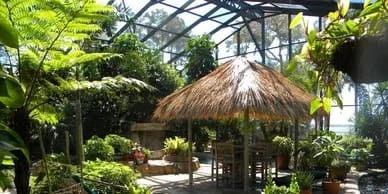 Also called Alang-alang thatch. This natural, elegant grass thatch is prevalent through the South Pacific and southeast Asia. Elephant Grass thatch rustles gently in the wind and immediately conjures up images of the South Pacific, and when properly layered can last 5-7 years depending on the climate and humidity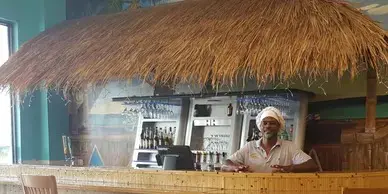 Elephant grass rolls are a Bali-style thatch, produced in 20ft rolls that can be shaped to any roof quite easily. Grass length is approximately 3'6″, but this length can be affected slightly by growing seasons and rainfall. It is recommended that Elephant grass be layered every 6″, which provides 10sq ft of coverage per roll.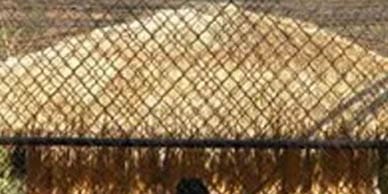 A very light and wispy grass thatch. Creates an elegant look that rustles softly in the wind. True Bali-style type of thatch. Quite durable, expect 5-6 years of life in hot and humid climates like south Florida, and up to double that in arid conditions.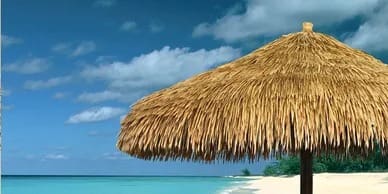 Viro thatch panels are the best choice you can make for your thatching needs. The panels at installation look very flat but within a couple weeks of being in the sun flare out and take on the look of natural thatch. We have had several comments from customers and people passing by, asking it that real thatch, it's hard to tell.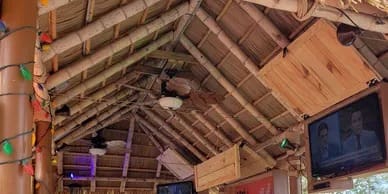 Viro Synthetic thatch panels are as close to the real thing as you can get. The advantage of synthetic thatch panels is that they will last for many years. The panels can be fire retarded, and are weather resistant and are light enough to handle effectively. Synthetic thatch panels are the ideal product for long term thatching needs.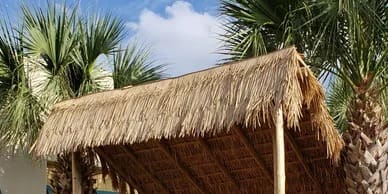 Synthetic thatch panels are more expensive than natural thatch panels, but in the long run are more economical because they don't require maintenance or replacement for many years, whereas the natural thatch panels will have to be replaced 2-3 times during that time.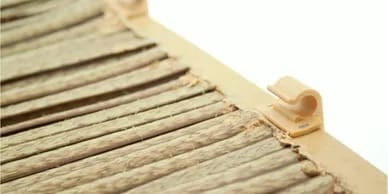 Manufacturer-backed 20-year limited warranty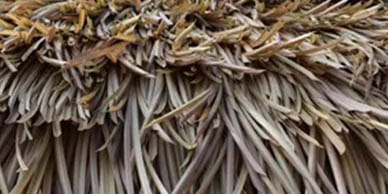 Available in a textured, Bali or Java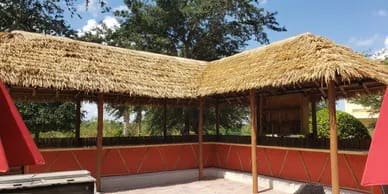 100% HDPE (high density polyethylene), which means this product is 100% recyclable without any toxic by-products – the greenest of all synthetic thatches on the market today .